CD Reviews

Various artists
From Avenue A to the Great White Way:
Yiddish & American Popular Songs from 1914 – 1950
2002 Columbia/Legacy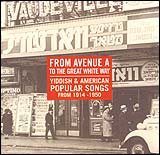 If not for this album, one might never have known that Fannie Brice was sent to the lower east side of New York so she could sound more stereotypically Jewish, or that Jewish vaudeville performers found success in "best Hebe contests" and songs like "Cohen Owes Me Ninety-Seven Dollars." This is the world of From Avenue A to the Great White Way: Yiddish and American Popular Songs from 1914-1950. The double CD set has extensive liner notes and photos acting almost like an historical document into a world that, for better or worse, many younger Jewish people inherited but never knew existed.
If you remember Molly Goldberg calling "yoo-hoo" on the old radio show The Goldbergs then you'll probably remember Eddie Cantor singing about Leena from Palestina. That's just one of the oldies featured, many of which sound like and come from the same era as You're Never Fully Dressed Without a Smile from the musical Annie.
The double CD set begins with the old style Yiddish theater songs from people like Molly Picon and David Medoff. It continues chronologically hitting upon the vaudeville era and into the jazz age.
Many tunes seem self-depreciating like Since Henry Ford Apologized to Me and When Nathan Was Married to Rose of Washington Square. Other tracks are by non-Jewish performers who jumped on the bandwagon like Cab Calloway of Minnie the Moocher fame and Slim Galliard with a song called Matzo Balls. The album ends with Jewish jazz performers such as Benny Goodman and Gene Krupa.
Although well known performers such Al Jolson and Irving Berlin are here, most of the tracks have been completely forgotten or lost making this a collection of things one has either never heard before or only heard on the radio when they first came out. The sound quality of the songs is very good for their age, having been re-mastered from the original 78 rpm records.