Hasidic New Wave
and
Yakar Rhythms
November 20, 2003
Playhouse Square
Cleveland, Ohio
http://www.hasidicnewwave.com
http://www.knittingfactory.com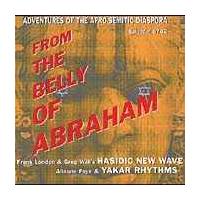 Hasidic New Wave, the five piece jazz ensemble from New York came to Cleveland as part of the Cuyahoga Community College Center for Arts a Culture series. Trumpeter Frank London was here last year with the other band heís in, The Klezmatics. Their brief free performance was held in the beautiful Palace Theater with its elaborate ceiling painting and romance style wall carvings. It drew a rather large audience including a mix of older people and youngsters bussed in from Cleveland area elementary schools.

The group is currently touring with Yakar Rhythms, a trio of percussionists from Senegal playing what is called Sabar music. Always seeking to explore new music and combine different genres, Hasidic New Wave asked around New York for the best Sabar musicians around. Since then the group has been performing together and released a joint album in 2001 entitled From the Belly of Abraham.

Utilizing trumpet, saxophone, double-necked electric guitar, electric bass and drum set, Hasidic New Wave played jazzy versions of klezmer and hasidic tunes and self-penned compositions. The performance was all instrumental with plenty of solos.

Yakar Rhythms played what looked like conga drums using drum sticks as well as the open hand. They performed both with Hasidic New Wave and separately, stunning the crowd with their many drum tricks including catching the sticks in the air, and holding them in their mouths.

After the performance followed a question and answer session with the students. Where did Hasidic New Wave first meet? Frank London and Greg Wall met in elementary school. What are Yakar Rhythms drums made out of? Goat skin. And the most memorable one; do you know Jingle Bells; to which the group jumped into a jamming improv of the classic Christmas song. The kippah-clad Wall and London didnít miss the irony commenting that if they did more Christmas songs they might sell more albums.

As far as the groupís albums are concerned, most of their material is instrumental with an ear to spirituality and a tad of humor. Men Trinkt Mashke off their 1998 release Psycho-Semitic is an old Hasidic drinking song in which the group sings as if there are truly drunk. Off of 1999ís Kabalogy is H.W.N., a haunting, wordless vocal melody accompanied only with percussion. From 1997ís Jews and the Abstract Truth comes a track entitled Welcome to the McDonald's in Dachau.