CD Reviews

Infected Mushroom and Barry Sakharof
Birthday
2002 Yoyo / BNE
www.infected.org.il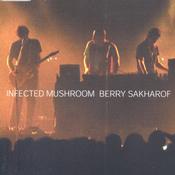 Last year I asked participants of the Federation's Israel Solidarity Mission to bring me back some CDs. I told them to just go in a store and ask for the best selling CD they had. What I got was B. P. Empire, the most recent release by trance duo Infected Mushroom.
Even for those of who have been to clubs or raves and danced to the throbbing, electronic beats of techno and trance, Israeli DJs are a step beyond, creating their own sub-genre. Some call it psychedelic or Goa trance after the city in India which is a popular vacation spot for young Israelis fresh off army service. Infected Mushroom stands as one of Israel's best and most unique representatives.
Their latest release broadens the borders even more. Infected Mushroom vs. Barry Sakharof: Yom Huledet, or Birthday, is a live EP recorded from a concert at the end of the summer with Israeli rock singer Barry Sakharof. The mini length CD was released shortly afterwards and has been receiving mainstream airplay. It includes Infected Mushroom's unique psychedelic sound but combined with veteran rocker Barry Sakharof's singing, both in Hebrew and in English.
Infected Mushroom's music is usually instrumental, computerized compositions employing such non-electronic elements as guitars, trumpets, chirping birds and other sound effects. A track will start mellow, and then build up with strange robotic noises coming from different speakers. The music comes to a sudden stop then come back two seconds later even stronger, making for an infectious dance beat. The team also likes to border on new-age and ambient making mini electronic symphonies.
Like each of Infected Mushroom's albums, the latest one is a departure from the one before it, with the group claiming that their last CD was all garbage. The title track is a dancable, electronic version of the upbeat Yom Huledet, originally recorded by Barry Sakharof. It has become popular in Israel for DJs to remix popular pop or rock songs and title it the DJ versus the original artist. Even Hatikvah, Israel's national anthem was released as a techno track and sold big.
The other two tracks mix Sakharof's vocals with Infected Mushroom's dark, hypnotic style and are much more trance-like. Some hardcore trance fans will still see it as a sell-out. Others will think it's cool that their favorite group is experimenting with new sounds. And some will enjoy the CD only because it's from their favorite group.
But regardless, for a couple of guys from Haifa, as opposed to trendy Tel Aviv -- one of whom started as a 16-year-old classical pianist -- Yom Huledet is another solid addition to Infected Mushroom's catalog.