The Klezmatics
Rise Up! (Sheyt Oyf!)
2002 Rounder Records
www.rounder.com
www.klezmatics.com


by William Jones
Cleveland, Ohio
exclusive to Jewish Community Radio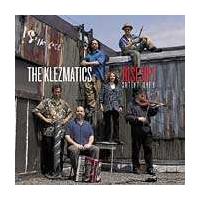 Always a provocative and innovative group, there is much to kvell over as well as possibly steer clear of since the Kís dabble in controversial subjects to put it politely.
Loshn-Koydesh has a beautiful melody but if I read right thereís a couple of fellows here Ė so much for those lyrics. Tepel is their lightning fast take on Chassidic music. I assume they must love it or they would not have wanted to do it, so good for them. I Ainít Afraid is their politically correct response to 9/11. Liberal members of the listening audience will applaud the lyricsís sentiments.
Yo Riboyn Olam is just plain great. Hope more artists take this song up. It deserves a wider audience. Davenen is a beautiful melody. St. Johnís Nign and Hevl iz Havolim are memorable, too.
Makht Oyt is a terrific song for Purim. Havenít heard it before. Hope I can get my shul to start using it for Iím convinced the kids will love the call-and-response format. The tants and bulgars arenít melodies Iíve heard before so they are refreshing versions.