CD Reviews

Steve Lieberman
Jewish Lightening
2003 Gangsta Rabbi Badílan USA Records
www.gangstarabbi.com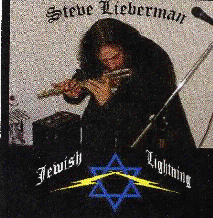 The musical punk street cred of Yidcore with the Zionist attitude of Subliminal, but with English lyrics... Had my quest for the all-mighty riff, the ultimate authentic Jewish jam finally reached an end? You canít imagine my excitement when I stumbled upon Steve Liebermanís gangarabbi.com.
But then I heard the music. Was this a joke? Did this proud Israelite poet truly believe I could ever play this on the radio? I emailed him what little tips I could about EQing, panning and vocal clarity. But Steve Lieberman alas seemed beyond hope. Still, he kept emailing me, and even mailed me two of his CDs, both full-length albums containing almost 20 songs each. I had no choice except to turn to the experts.
Currently a student at Cuyahoga Community Collegeís Record Arts and Technology program, I gave my instructor, international recording artist Warren "Hanna" Harris a listen to I Should Have Been a Nazerite. Unlike most, he sat without batting an eyelash and patiently listened to the entire track. When it was over, he calmly turned to me and said, ďThis is perfect for college radio.Ē I stammered as I tried to object, but Mr. Harris assured me that Steve Lieberman knew exactly what he was doing.
Released as a full length CD in 2003, Jewish Lightening is created and performed entirely by Steve Lieberman, a resident of New York state. The instruments used are electric bass, flute, drum machine and Mr. Leibermanís whiny, nasally vocals. The lyrical subject matter falls upon identification with Biblical ancestors and anger towards the Holocaust. The vocals are distorted and barely decipherable, sounding as if they were recording on an old four-track, or perhaps even a cassette deck.
Despite some of the hip-hop-esque terminology, there is no rapping on the album, but plenty of screaming. The style of the album is reminiscent of John Zornís Naked City ensemble, specifically the Torture Garden CD. However unlike John Zorn, there isnít an avant garde jazz genius air, but rather a b-grade movie garage sound which is hard to listen to for more the a couple songs.
Other instruments are bagpipes and an array of ethnic instruments none of which seem to fit together in any kind of musical semblance. Many of the songs, such as Jewish Riot have a catchy chorus and actually sound like composed songs, but there are others where notes are obviously off-key.
Refreshingly, there are many solos, both bass and flute, a seemingly lost art form in todayís rock. Most songs sound similar and have mid to fast tempo beats with buzzing bass guitars and a general droning quality. Of particular interest is the hypnotic seventeen-minute closer, Yizkor í39.