Various Artists
John Zorn: Masada 10th Anniversary Edition Vol. 2: Voices in the Wilderness
2003 Tzadik Records
www.tzadik.com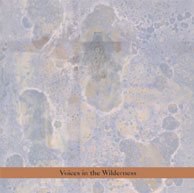 One of the latest offerings from Tzadik Records is the Masada 10th Anniversary compilation. It's been ten years since John Zorn switched from avant garde jazz over to Jewish themed avant garde jazz. The Jewish saxophonist and composer was a downtown New York icon. His projects such as Naked City saw him screaming out vocals to match his screaming sax and electric guitar.

Then he started wearing tzitzit on stage and composing music based on Jewish historical figures or Torah parshiot. Soon Zorn was involved full time with his Masada String Quartet and leaving his old material behind completely. He released nine Masada albums as well as series such as Bar Kochba and Zebulon the Circle maker. Plus he started Tzadik Records, a label for similar artists whom he had performed with or helped along the way.

The prolific record company has released a slew of Jewish musicians openly expressing their feelings about their identity such titles as The Selfhaters, I Killed Your God and Jewlia Eisenberg and more. These are the artists are featured on the new album, a double CD compilation of Tzadik Records artists performing their unique interpretations of Zorn's already unique compositions. All tracks have Hebrew names.

If you're looking for inspiration in tracks such as Yair and Acharei Mot, it will have to be through notes, not lyrics. True to form, there are no words on the album, however there are vocals. Some sound like klezmer. Others have a middle eastern feel such as Pharaoh's Daughter. All tracks incorporate jazzy solos and instrumental virtuosity and have a general dreamy, atmospheric feel to them as opposed to being rocking or danceable feel. Also of interest is a smoothed out Mike Patton of Faith No More performing Kochot.