New Orleans Klezmer All Stars
Borvis
2003 Stretchy Records
www.klezmers.com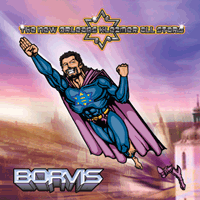 The album cover of a superhero with a Star of David on his chest kicking off his shoes and blasting off from an Eastern European landscape is an example of the bandís humor. Yes, they are from New Orleans, Jewish and play straight-forward klezmer. The group has opened for the jam band Phish as well as more Yiddish oriented concerts. As far as the type of music their name may imply, you could close your eyes and not know what century you were in. But a glance at track names such as Goodbye Big Homey and Naftuna Melt gives them away as modern.

The accordion, clarinet and violin are the lead instruments in this all instrumental album. Many songs are short, fast freilichís, written by the aptly named Jonathan Freilich, Robert Wagner, Glenn Hartman and the rest of the six piece band. Others are long, slow and sultry doinas and other are combinations, starting slow and building into a frenzy of intricate solos.

The Owl is a fluttery solo clarinet and a good example of the groups instrumental virtuosity. The title track starts slow and ends with an impossibly fast clarinet jam. Other songs use just one or two instruments. Jews Blues is more like a bulgar and could come straight out of Fiddler on the Roof. A couple tracks have reverb filled electric guitars shifting back and forth with swirling clarinets.

Unlike their previous albums, there is no saxophone and a couple of changes in band members. About half the songs are written by the band, the others being traditional klezmer melodies. A Heimesher Sher by Dave Tarras, the influential American clarinetist keeps with the original structure and sound but is performed with a rock guitar and electric bass. Also familiar to many will be Fun Tashlich also recorded by Clevelandís Yiddishe Cup Klezmer Band.

This is a band that shines through live, nevertheless, the New Orleans Klezmer All Stars are a rollicking band and Borvis is another solid addition to their repertoire. If youíre looking to check out the band, or any good klezmer music, this is a solid example.

As a side note, we used the title track for our Intro to Recording class from the Cuyahoga Community College Recording Arts and Technology program taught by international recording artist Warren "Hanna" Harris. For at least half the class we listend to the peice repeatedly and discussed it's song structure, instrumentation and how it was recorded. For example only Warren Harris would notice that that there is a breath from the left speaker in the first minute of the track. Students who had a hard time even pronouncing the word klezmer were humming the tune for the rest of the day.