Interview with Basya Schechter of Pharaohís Daughter
February 20, 2004
88.7 FM WJCU
www.pharaohsdaughter.com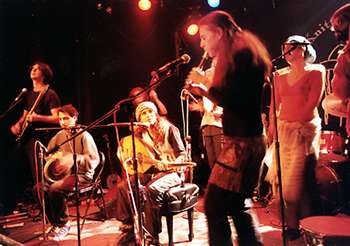 Jewish Community Radio: Okay this is Basya Schechter. She is the lead singer of Pharaohís Daughter and she is in Cleveland for the Tri-C Arts and Culture series. Why donít you tell us a little about Pharaohís Daughter and how this came to be?
Basya Schechter: Pharaohís Daughter is just a combination of my vision as a singer/songwriter, my interest and inspiration from world music from traveling all over the world, and harking back to a lot of my Jewish music roots. So itís a combination of my Jewish foundation, my interest in traveling and my ongoing existential crisis.
Jewish Community Radio: Why donít you talk about growing up in Boro Park and that community and then going to the Middle Eastern communities and merging that. How did that happen?
Basya Schechter: I went to yeshiva in Israel like almost every orthodox girl does at age 17 or 18 and when I got kicked out in March I ended up going to Egypt. So that was the first time I really heard Middle Eastern music from its source. I had grown up with a lot of Israeli music like Zvika Pick and others, which had been a lot of watered down Eastern sounds. But the real Middle Eastern flavor and intensity was when I was 18 and got kicked out. From then on I loved the way the music made me move and the way the music made me feel. It was so natural for me to feel that music and combine it with the music I had grown up with.
Jewish Community Radio: When you say you got kicked out, does that mean yeshiva ended or did you do something bad?
Basya Schechter: I was myself. I donít know if that was bad. I explored. I spent most of my day in the bookstore. I spent a lot of the night going to bars and checking out movies and culture and staying out relatively late and not being as present in school as I should have been.
Jewish Community Radio: Letís talk about you going to Turkey and the hearing all these Israeli songs on the radio.
Basya Schechter: The first time I literally came off the boat in Marmaris, Turkey and I went to the youth hostel. And climbing up the stair just listening to music, all the music I head was so familiar but it was all in Turkish. But I realized that it was all this Israeli music that I had grown up with but with Turkish words. And it dawned on me that the original wasnít Israeli, the original was Turkish, and that they had taken the melodies and had made them their own.
Jewish Community Radio: So a little about the history of all this music merging; what is the history of that and what is the original of everything?
Basya Schechter: Itís hard to find the original in anything. But I donít know if itís so important any more the "original" aspects of anything. I think itís more important the emotional connection that you make with it and the way it makes you feel. If it really seems to express what you are, then in some ways itís your music even if you didnít write it. So I think as much as I was hard on the Jewish music for a while because I was so sad that so much of the stuff that I thought was original had really come from so many other cultures, instead of getting upset at some point I just jumped on the bandwagon and started to find things that made me feel inspired that I appropriated too.
Jewish Community Radio: Who are all the people in your band and what instruments do they play?
Basya Schechter: On this concert thereís Daphna Mor who plays all size recorders and zorna and cornemuse. Then thereís Moto Defoscue who plays Brazilian percussion, Jason Linner who plays keyboards -- heís also a jazz piano player -- Shanir Blumenkranz who plays bass, Shazad Israeli who plays drums and Meg Okura who plays violin.
Jewish Community Radio: What do you think the reaction is, for example, when you played the Yiddish Concert in the Park at Cain Park here a couple years ago and it and it wasnít exactly the klezmer that they did in previous years? And maybe you could tell us whatís different when the original Sherele Pererle, for example, and how you do it.
Basya Schechter: Iím inspired by klezmer music. So if I hear a song that I really enjoy, I sometimes set it in a more Eastern way, the way I did with Shnerele Perele. To me, the melody itself didnít sound as Eastern European as other melodies Iíve heard. It sounded more Turkish. So I set it with oud and tabla. As for the reaction in Cain Park, Iím just hoping everyone could be open to new things and old things.
Jewish Community Radio: Whatís your new album and when is it coming out?
Basya Schechter: Itís an instrumental record of oud and santora which is a Persian dulcimer instrument and thatís coming out probably earlier summer or fall. And Out of the Reeds, my second record, will be re-released on John Zornís Tzadik label and in the spring.
Jewish Community Radio: What does your family and friend back in Boro Park say about all of this? And maybe you could add in the kol isha issue. Is that an issue?
Basya Schechter: I think its an issue for people who are some people from my community but its not really an issue for my family I think my father is very interested. I mean somehow he loves the fact that Iím a singer. I think he would just prefer that I would be Orthodox as well. And I think I get a lot of support from my family and a lot of encouragement and a lot of excitement around the things that I do.
Jewish Community Radio: Where did you get the name Pharaohís Daughter from?
Basya Schechter: Very easily, I am named after Pharaohís daughter. My name is Basya, which means "daughter of G-d", a name that you can find in the commentary, that was given to Pharaohís daughter as a reward for saving Moses. So it was natural. That name sounds Egyptian and since I am Eastern European Jewish, it was just a great fusion of both of those aspects of my personality.
Jewish Community Radio: Whatís you connection to the Yiddishe Cup Klezmer Band?
Basya Schechter: I know Burt is somebody who was familiar with my music and heís the one that brought Pharaohís Daughter to Ohio a year and a half ago at the Cain Park. And Iím very grateful because otherwise would have never gotten exposed to Ohio.