CD Reviews


Piamenta
Sason V'Simcha: A Piamenta Wedding
2003 Yossi Piamenta
www.piamenta.com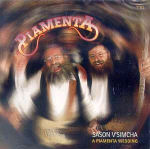 Brothers Yossi and Avi Piamenta have been playing electric guitar and flute respectively for years now. Considered to be genius musicians their style fuses Sephardic and Israeli style rhythms, with rock guitar sound and a yeshiva/Chassidic lyrics and feel. The new release is a double album that seems to be geared toward being spun at weddings.

All tracks are medleys of well-known songs and over half clock in at ten to fifteen minutes. Familiar songs by Shlomo Carlebach, Yossi Green, Mordechai Ben Dovid and previous Piamenta albums flow together in long sets. But the jamming guitars solos and raw folk feel are not present. The album as a whole feels much more produced and commercial then other Piamenta albums.
---

Copyright 2003 Jewish Community Radio
jewishradio@hotmail.com