Psytekk
Good Purpose
2004 U.S.T.A. Records
www.ustarecords.com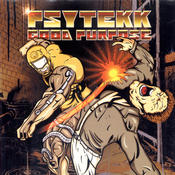 Underground Sound of Tel Aviv sees the new trend in Israeli trance not in Tel Aviv, but in the southern region. Their most recently signed artists, Beta Hackers and Psytekk both have a "full on" style. Reading the labelís description of Pytekkís new album is almost as entertaining as listening to it.

"Psytekk style is simple and kicking. The first part of the album is a night time full-on, which means deep streaming leads put over tight bass-line creating a lot of motion in the atmosphere of the sequence. From there on the tracks move directly to the point of boil. Where the beat merges with the sawing sounds of the leads...thatís the point where u should test it on the dance-floor..."

Indeed, much of the album seems to be written for the purpose of rave parties or dance clubs. The album is all instrumental with the only words being movie samples from what sounds like English psi-fi flicks. The music is electronic sounding created all by Hanan Bitton with computers, synthesizers and keyboards. Songs are an average of seven to eight minutes long. The heavy bass lines and beats donít always come head on, but often build up, and fade in and out for effect.

There arn't that many melodies on the album. The music seems more minimalist, with brief phrases darting in and out creating a more atmospheric sound that could be boring to some. Maybe this music is less for sitting around with and more as background soundtrack material. That would fit in with the movie samples.

Although not the hot new fad of the moment, trance CDs are still released regularly in Israel. Why did this new sub genre develop so swiftly in Israel? Perhaps it is because if Israelís high tech nature. Maybe because one person can create a full length album in their bedroom with a computer and keyboard.

Take Psytekk for instance; all performing, mixing and producing was created by Hanan Bitton alone. Only the mastering was done by someone else. Still further perhaps the hypnotic, mind-numbing mood of the music is just what young people in the tense country feel they need.