Abe Schwartz
The Klezmer King
2002 Columbia/Legacy
http://www.legacyrecordings.com/klezmermusic/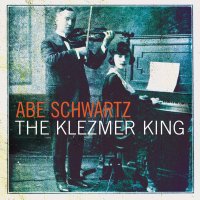 If youíve ever heard new groups like the Yiddish Cup Klezmer Band and The Klezmatics and marveled at how they got all those great old tunes, look no further. Abe Schwartz, the Klezmer King is now available on CD. Before this, 78 RPM records these were remastered from was the only place you could hear him.
The Klezmer King album is old, both in sound and style. Musicians like Schwartz, Dave Tarras and the Musiker Brothers are who the modern ones learned from. Tese melodies donít seem to have jazz-like improvisation. They are straight ahead rollickers, heavy on catchy rhythm and melody. There are a total of twenty-five tracks on the album and most are short and fast.
The instruments employed are the violin, played by Schwartz, the clarinet and horns. The beat is so danceable that you forget thereís no percussion. Thatís traditional, because back in the old country, if the klezmorim had any percussion at all it was just a bass drum.
For you Yiddish speakers, The Klezmer King is not all instrumental. There are tracks that start with lively shouts as well as straight singing pieces like Mameniu Liubeniu or the satirical Hurra Far Unzerheld Levine. Then thereís Die Bolbriker Chasseneh, which has Schwartz introducing a bride and groom in between slow music. He raises his voice, half speaking and half singing in rapid-fire Yiddish. Then he gasps out that the couple is now officially married and the band breaks into fast, bouncy jamming. Close your eyes and you can imagine youíre one of the guests. That goes for most of the tunes here.
If you didnít know the difference between a bulgar and freilach and nigun before, you better start learning. Abe Schwartz taught long of young folks about what it takes to be a king of klezmer. Companion CDs of Dave Tarras and the Musiker Brothers are available from Legacy Recordings.