CD Reviews

By BENJAMIN BRESKY Freelance Writer
Cleveland Jewish News
Sunday, December 01, 2002

Tim Sparks
At the Rebbe's Table
2002 Tzadik Records
www.timsparks.com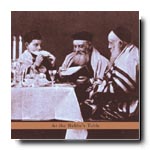 This is acoustic guitarist Tim Sparks' third record exploring Jewish melody on John Zorn's Tzadik label. Zorn, an avant-garde jazz composer, often showcases little-known musicians delving into their Jewish roots. Everything from punk-rock-inflected klezmer and free-form jazz based on Hasidic nigunim (melodies) are the norm on Tzadik records.
The latest album from Sparks includes the well-known Marc Ribot on backing guitar. Many of the tracks on this all-instrumental album are traditional klezmer tunes, smoothed out by Sparks' acoustic treatment.
Naftule Brandwein's "Fun Tashlich," for instance, wouldn't be out of place on Smooth Jazz 107.3. Also featured are a traditional Jewish Yemenite song, a Sephardic melody from Greece, and an original John Zorn composition. The album's songs flow together creating a mellow, relaxing, groovy kind of vibe. Sparks' experienced arrangements and technique shine through a diverse selection of music.