CD Reviews

Robin Spielberg
American Chanukah
2002 playMountain Music
www.robinspielberg.com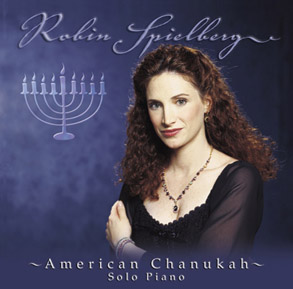 American Chanukah is Robin Spielberg's 12th album. The classically trained New Yorker has won accolades for her original compositions and renditions of standards. She has played Carnegie Hall three times, done Christmas specials and breast cancer awareness benefits.
Her latest album contains all the traditional Chanukah songs such as Maoz Tzur and Oh Chanukah played in her powerful solo piano style. It also has other Jewish standards such as Jerusalem of Gold and Hatikvah.
The two original compositions on the album are First Night, which was inspired by the Chanukah holiday and the stirring West Bank (YESHA) Serenade, which is dedicated to Israeli terrorist victims. Also featured is U2's award winning song One.
Rather then straight forward renditions of familiar songs, Spielberg turns them into classical sounding pieces with a soothing new age feel, similar in style to pianist Liz Story. The relaxing, peaceful sound also comes from Spielberg's interest in music therapy, which helped her own prematurely born daughter.