CD Reviews

Yiddishe Cup Klezmer Band
Yiddfellas
2000 The Orchard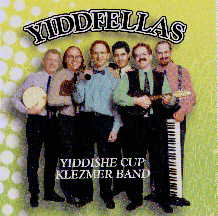 At a concert in their hometown of Cleveland, Ohio, the Yiddishe Cup Klezmer Band plays a slow tune as they are about to begin. Bert Stratton, the band leader calls out, "We're here to show that Jewish music is not all slow and solemn!" He jump and yells, "one, two three four!" and the band starts back into the same slow solemn tune they're been playing. After the laughter, they start into their real opening number, Shabbos Nign and young and old dance as the evening draws on.
The Cleveland group's second album delivers fast, fun klezmer. Without trying to 'be' anything, these musicians became one of the first modern klezmer bands to revive an old style.
Although the melodies are old, they are played fresh and danceable, "and doesn't smell like stuffed cabbage" as the liner notes state.
There are familiar tracks on here such as Rozhinkes Mit Mandlen, or Raisins and Almonds, and Fun Tashlikh which has been performed by musicians ranging from The Klezmatics to acoustic guitarist Tim Sparks.
Shabbos Nigh is a highlight. The Breslover niggunim consisted of an ultra-catchy ai-ya-ya.
That's Morris is a cover of fellow Clevelander Mickey Katz's parody of That's Amore. At first it may seem a little stupid, but I can't help laughing every time I hear "is that a matza ball with a hairpiece?!"
There's also some serious musical virtuosity, courtesy of Bert Stratton's talented clarinet work and guest Steve Greenman's violin.
If you're ever in Cleveland, try to catch these guys live. They bring their own "shtickmeister" and dance leader. Otherwise get this album. It's a classic example of what klezmer is supposed to be.